SELMO Technology: standard, method, procedure
We did not invent the step chain. Nor did we invent modelling or generation. We invented a modelling method that has every state of the step chain under control – without any manual programming.
Click through our short explainer videos to learn more!
SELMO technology creates one picture for everyone so that everything fits together better during commissioning.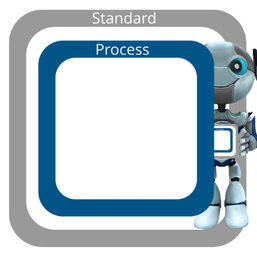 DIGITAL STANDARD - EVERY MACHINE
open, universal
Give the freely available standard to your suppliers or use it yourself. It is like a digital book in which the basic functions of all machines are written down, based on the automobile. The process is the essence of the machine.
METHOD- PROCESS DIGITAL FIRST
SELMOstudio - Modelling
Logical modelling fills the standard with the individual machine process. So that all experts follow the same picture: Step by step and bit by bit. "Digital first" makes project planning easier and the machine truly digital.
CONVERSION - AUTOMATIC SPS, HMI
SELMOstudio, Generator
The standard is adhered to because it is generated instead of programmed. For this, an innovative process converts the model into a PLC program according to IEC 61131 and into a Windows-based HMI. The PLC can be checked early on; the machine is digitally fit early on.
MONITORING & OPERATING
Operating System
The uniform, hardware-independent software structure is easy to operate and learn. All signal states are under control at all times. The machine always informs what the next step is, what needs doing and what is missing. Every bit becomes visible!
SELMO Standard - understandable and clear
It creates a common digital language for simpler and faster implementation of requirements. SELMO separates the standard from the machine process and the software from the hardware. Machine operators can pass on the SELMO standard, which is based on automotive specifications, to their suppliers. They can use it themselves and become SELMO license partners.
SELMO Method – digital first
The "Digital First" method creates a common picture for all engineers. Modeling for all assemblies runs over four layers. Everyone has the same picture - a common set of requirements and specifications. All data points automatically collect in the intuitive HMI display.
SELMO Proceeding - BitControl
Find out here why SELMO software displays and controls every bit in the machine. Programmers are relieved of routine tasks or tedious troubleshooting with the SELMOstudio tool.